Sometimes you may find the address of some photo shop, the company as to Google, it will show that business information with a small map navigation to the address of the company.
This is a free Google service called Google Place Listing , with this service, any business that no matter how small can put their name on Google Maps.
Meaning of business address on Google Maps
Will display the company name on Google Maps at http://google.com/maps.
Displayed on the navigation map search results in some queries containing the name of the province / city.
When making company information to Google Maps, it will automatically give you a fanpage on Google Plus and it will display the attached map. You can attract customers to track this page, sign-up information. If you have many customers review (evaluated according to star), it will still show a very beautiful Google.
Show address in the search list of Google Plus.
Professionalism in promoting the business.
So you can understand that, putting the address your company to Google Maps will help you easily reach more customers , customers to contact with you without having to access the website via phone number attached according to the map.
Preparation prior to the business address on Google Maps
An official logo of the company.
Some general corporate image.
Exact address to receive a confirmation from Google PIN. Check in time is between 5-15 days depending on the country.
 Guidance is provided to Google Maps address
First you'll need to visit  https://www.google.com/business/placesforbusiness/ and registration button as shown.
And log
Next, type the exact address of your company on the map, can type in Vietnamese because Google can understand. When completed, press the button as shown to start a company based on the address that you have found the address.
And enter the company information and press the Submit button. Please note that entering the exact address where you can receive Battery activation from Google, in Vietnam does not matter Post Code, you can enter 4000 as well.
Once you're done, follow a few steps as they guide and complete.
Important: When completed it, your task now is wait for Google to submit your PIN enabled for Google Place for Business.
…..10 years later…….
And now you will get a cover letter like this from Google Maps.
Sesame opens ……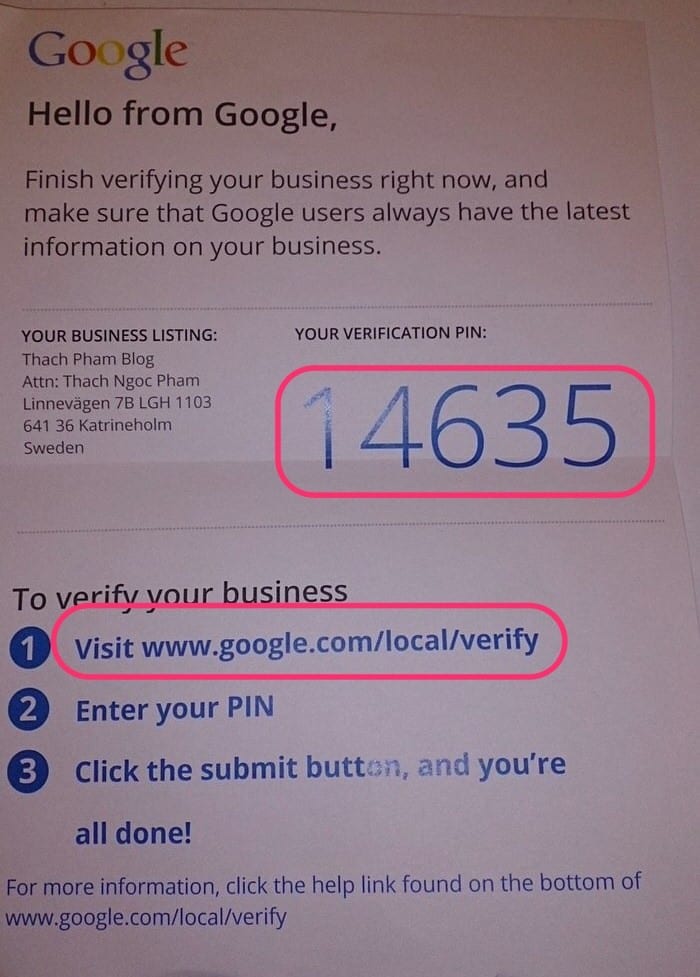 Once opened, you will see the PIN confirmation with instructions are very detailed, just type in the address included in the message to the browser and log into the account and then enter the PIN on like this.
After you finish typing it will report completion and the start address to display on Google, but it still does not show right away.
You can visit the  https://www.google.com/business/placesforbusiness/  to edit records to fully attach to it a professional logo slightly.
Before temporarily it appears officially on Google (it takes a few days after verify level), you can go to http://maps.google.com and type your company name out to see it appear on it.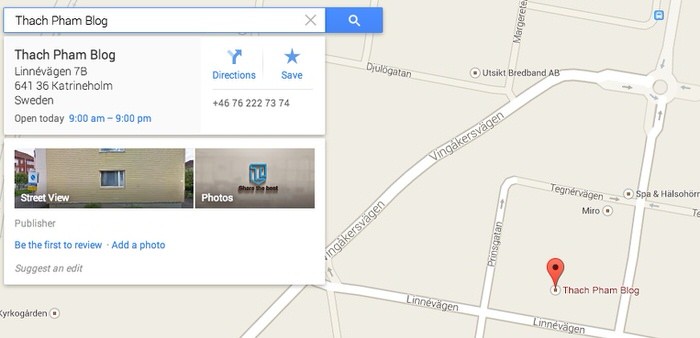 Yeah, it's all what you need to do. 😀
Note :  Blog on Google Maps will soon be removed because I do only for the purpose of writing articles, you can later search will no longer show up anymore.
A few notes
Not keywords related to your business are displayed map.
Encourage customers to review your business on Google Maps on to it the beautiful star-shaped.
I wish you early success!